Connecting your Square account to your affiliate account is simple and straightforward and requires only two pieces of information:
A token which grants the K-BID software permission to access your Square account
A store name (Square refers to this as a "location") which enables reporting in the Square dashboard
**IMPORTANT: Your Square store name/location does NOT change from auction to auction. 
Ready? Just follow these steps exactly:
1) Go to https://connect.squareup.com/apps and log in with your Square account username and password.
2) On the application dashboard, click "New Application"
3) Enter an application name. We recommend "K-BID Checkout". Check the box to accept the Terms of Service and click "Create Application."
4) On the next screen, locate the "Personal Access Token" field and click "Show." Highlight the code displayed and press Ctrl-C or right-click and select "Copy".
5a) In the top menu, click on Locations. Make a note of the location name (do NOT Ctrl-C or you will overwrite the previously copied code!). If you have more than one location set up in your Square account, you will need to decide which ONE to attach to your K-BID profile.
5b) OPTIONAL: If you have no locations set up or if you'd like to set up a unique location for your K-BID profile, you will need to add one via your usual Square dashboard. Go to https://squareup.com/dashboard/locations and follow the prompts to add a location. At a minimum you will need to give your location a Nickname and assign a bank account for depositing funds.
6) Log into your affiliate account on K-BID.com. Click the "Account" tab to access your affiliate profile information, and then select "Affiliate Properties"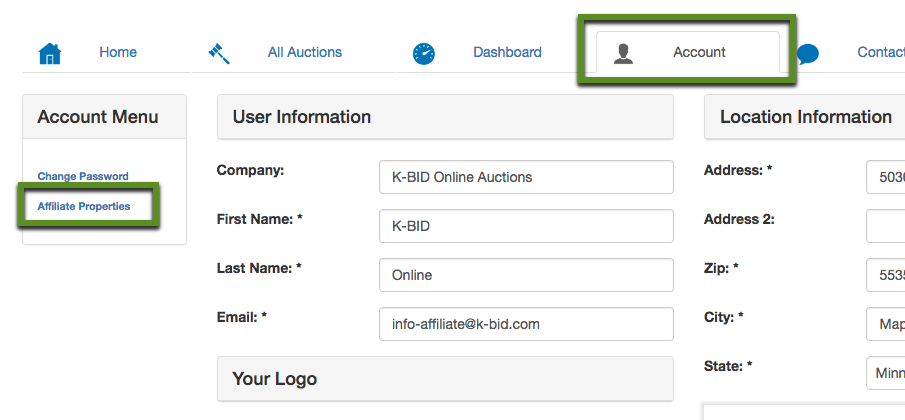 7) At the bottom of the page, paste the "token" code (Ctrl-V or right click-Paste) from step 4 and enter the location name/nickname from step 5a or 5b. Click Save.

You are now enrolled to receive payments using Square starting January 1, 2018.