When a buyer comes to your removal and claims they are exempt from sales tax, there are a few extra steps to take in processing their payment at the time of sale and processing their invoice in K-BID.
At the Removal
Buyers must provide or complete the appropriate documentation for their tax-exempt status based on the state in which the auction is being held. In Minnesota, this is the MN ST-3 Form, Department of Revenue Certificate of Exemption. For auctions outside of Minnesota, check with your state's department of revenue.
Per the MN ST-3, purchasers are responsible for knowing if they qualify to claim exemption from tax and will be held liable for any use tax, interest and possible penalties due if the items purchased are not eligible for exemption. Sellers: accepting a fully completed exemption certificate relieves you from collecting the tax. You may be required to provide this exemption certificate (or the data elements required on the form) to the state to verify this exemption.
We recommend having a few blank forms on hand for buyers who fail to bring their own.
Tax-exempt buyers will pay the pre-tax subtotal found on their invoice. They will still pay the discounted or non-discounted amount based on their payment type.
We recommend circling the actual amount paid and attaching the exemption form to your copy of the invoice for your records.
Processing Invoices
Invoices for tax-exempt buyers should be marked as such so that your Close Report and Sales Tax Report are accurate. This setting can be adjusted from your List Invoices page in K-BID. Select the invoice(s), click the Tax button and select "Set to Tax Exempt."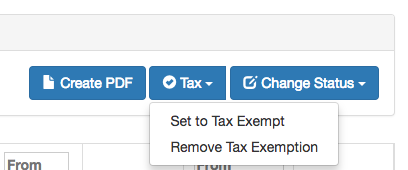 The invoice(s) will marked with a green checkmark in the Tax Exempt column.
Notes on Out-of-State Buyers
Just because a buyer is from out of state does not mean they are exempt from sales tax. The auction removal site is a physical location just like a store or gas station and sales tax applies.
If you do have a legitimately tax exempt buyer from out of state, they will still need to provide or complete

your

state's exemption documentation.
If an item will be shipped out of state, generally sales tax does not apply. The buyer will be responsible for knowing whether to report sales and use tax for out-of-state purchases to their state's department of revenue.